The best romantic movies
Forget about Brad Pitt or George Clooney: the hunks of WithLove are even better. From Cooking with love to Secret Summer and from Marrying Mr. Darcy to The Last Bridesmaid. Every movie on WithLove will give you that feel-good feeling and lets you take a break from the bustle of the day. 
Start enjoying
Watch unlimited movies and series

Romantic movies like nowhere else
Watch however you like 
You can watch the movies and series at WithLove from your laptop, mobile phone, tablet and television. That way, there is always a way to get that moment to yourself.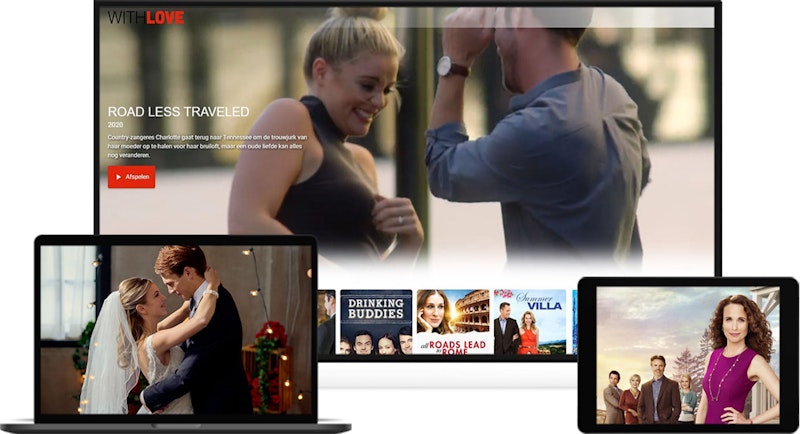 Frequently asked questions
WithLove is a streaming service providing a wide variety of romantic movies and series, selected by our editors, especially for you.
So need to relax after a long day? At WithLove you can watch whenever you want, as much as you want and without any form of advertising to disturb you. Plus, new content will be added every week.
How does the trial period work?
Great to hear you are interested in our free trial period! At WithLove, you can explore and enjoy our selection of movies and series completely free for the first 14 days. All we need is to verify your payment information, which we do with a one-time transfer of £0.03.
As a new user, you can simply register by creating an account. Don't worry about choosing the membership, this will only be activated after your 14-day trial if you don't cancel your subscription. But we will send you a reminder before that happens. And if you do cancel, you will obviously don't pay anything. Enjoy watching!
Start your 14-day trial here.
At WithLove we want to be flexible, meaning no annoying contracts or cancellation costs. Within a few clicks, you can cancel your membership. You can cancel at any moment in your profile.
How can I watch WithLove on my TV?
There are multiple ways to watch WithLove on your TV. The most common ways are Chromecast, Apple Airplay, or an HDMI cable. See an explanation per method below:
Google Chromecast: do you watch WithLove on your tablet, phone, laptop or computer and do you have a Chromecast Ultra, Chromecast 2 or Chromecast 3? Then you can stream your favourite shows to your TV from your devices.
Apple Airplay: to be able to use Apple Airplay, you will need an Apple device. Connecting your device to Apple Airplay, you can stream your favourite shows to your TV.
HDMI cable: don't have a streaming device, but you do have HDMI ports on your laptop/computer and TV? Then you can simply connect your device of choice to your TV and directly watch on your TV.
Does WithLove have an App? 
Definitely! You can download the WithLove app in the Apple AppStore and in the Google Playstore where it is available on almost all smartphones and tablets. Rather watch on your laptop or computer? You can also log in on withlove.tv and watch online.